We are nearing the end of June of Doom, and I'm excited to keep it up with "July of Try" as we're calling it – or, as Page is calling it… "July: Come on Guy!" Whatever we call it, the point is to keep up healthy habits, adjust the rules and goals we set for ourselves in June either to step it up a bit, or be more flexible, depending on what's working and what's not.
For me, I've cut way back on sugary snacks and sweets, and have been consciously getting 1-2 servings of fruit a day (this is big for me, not a fruit person). I've also been consistently getting 5-6 SWEATY workouts in every week. In the past, I would log a 30 minute elliptical "jog" as a workout, but could have gone on to the grocery store in my gym clothes without embarassment if need be. This time around, I've amped up the intensity and every time I leave the gym, I am drenched through my clothes and my hair is plastered to my head. I love working out on this level, especially when for the other 23 hours of the day I sit. Sit at a desk. Sit at a computer. Sit in the car. Sit on the couch. I've learned that I owe it to myself to make the hour of activity I do really count. Even though I was doing some regular workouts before, I feel so much better, both physically and mentally in recent weeks, and I definitely feel less stress, so it's never hard to get motivated to go break a sweat.
I try to keep it mixed up in terms of workouts and I rely equally on group fitness stuff that I don't have to think about and can just follow along with, as well as individual workouts that I can do on my own schedule. Between two runs a week (I'm a wuss in the heat, so I've taken these indoors to the treadmill) two step aerobics classes a week, and two of this elliptical "Brazilian Butt" workout per week, I've had no trouble getting my daily sweat on.
The other half of this effort is diet. For me, this part is always a bit harder because I do love food and flavors and planning healthy versions of everything requires time and effort ahead of time that is sometimes scarce. I've tried to set aside time each weekend to get a grip on what's on hand and plan out dinners, making enough to use as leftovers for lunch. Between ingredients for lightening dishes up, and some favorite on-the-go foods, these are a couple of my favorite things setting up shop in my pantry and fridge right now.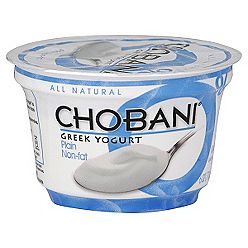 First up, the oh-so-popular Chobani yogurt. The plain, non-fat flavor is pretty much awful on its own, but amazing when added to all kinds of recipes. Until recently, I had used it in place of sour cream and cream cheese ingredients, but found this chart and learned it can be used for so many more things, replacing high fat ingredients with low fat, added protein.
My new love for breakfast is oatmeal. After reading an article about oats being one of the best foods for burning fat in the belly area, I was all for trying it. In the mornings, I need quick and I need convenient. I'm not one to COOK my breakfasts – no time. So these little OatFit pouches are perfect, and great for taking to the office. Once you tear open the packet and put the oats in a bowl, the pouch doubles as an ad-hoc measuring cup to add the right amount of water. There are several kinds of oatmeal is this company's line-up but the OatFit kind comes in both Maple & Brown Sugar, and Cinnamon Roll, both delish, and both only 100 calories per serving (as opposed to others that are 170 or higher).
I layer these hot in the bottom of a bowl, add a layer of cool Chobani yogurt with fruit (black cherry, pineapple, mango) and then a few fresh tart cherries on top. The hot and cool and tart together are awesome and make oatmeal "work" for me in warm summer months. Plus it sticks with me all morning.
Finally, we went without booze in June (for the most part…there were a couple of cocktails that managed to be consumed) but in July, it's back on the "okay" list in moderation. And moderation means using the new Voli vodka – lower calorie vodka that comes in several flavors. It also has a lower alcohol content than most vodkas, but we figure after a month without, our tolerance is lower anyway, right?
While I know I haven't dropped much weight according to the scale, there are definitely some changes I'm starting to note, almost four weeks in. I'll be back to share those as well as the new short "July checklist" of goals and things to strive for and keep me on track. One month at a time!